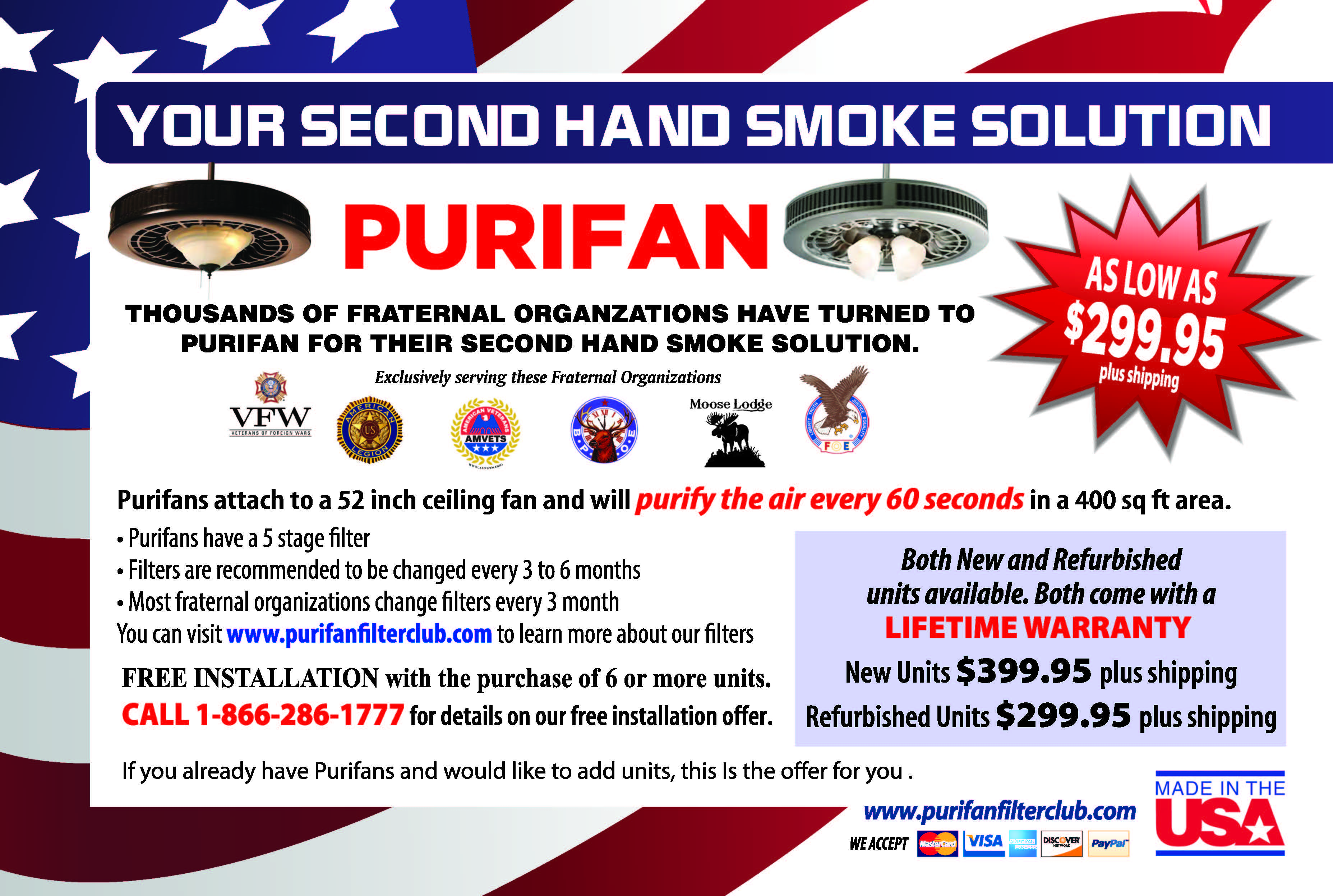 Purifan, Berry Rack Up Great Receptions
Over the course of a 13-year Hall of Fame playing career with the Baltimore Colts, 25 years as a professional and college coach and a decade spent as a sought-after motivational speaker and FCA stalwart, Raymond Berry has remained in the public eye as a paragon of courage, conviction, and faith. Berry always had his doubters (he was too frail, too slow), but his confidence in himself and what he believed in never flagged.
Berry, who'll move to Tennessee from Colorado within the next year (he and his wife have bought a house in Murfreesboro), speaks with unflagging enthusiasm about the Purifan, a device that, very simply, turns an ordinary ceiling fan into an air purifier and circulator. The Purifan removes smoke, dust mites, pollen and other harmful, airborne particles from a room. The Purifan has a legion of fans around Middle Tennessee already. Business owners who've installed the device are unanimous in singing its praises �V within hours it removes smoke and smoke odors from their buildings — and Berry sees it scoring big with homeowners, as well.
'We haven't scratched the surface of the home market,' he says. 'I can speak with firsthand assurance of how many people it's helped.' Berry first learned about the Purifan from Kelvin O'Brien, who has the marketing rights in Tennessee and other states. While an assistant coach at Arkansas in the '70s Berry recruited O'Brien, whom he recalls was 'the best high-school football player in Kansas', and the two have remained friends over the years. Three years ago Berry went to Las Vegas at O'Brien's behest, met some people who'd installed the Purifan, and began what he calls a rewarding experience that's continued to this day.
'Wherever I go I invariably hear the same story,' he says. 'People are thrilled to death with the Purifan.'
———
Raymond Berry's most thrilling football experience, in the minds of fans, at least, was the 1958 NFL title game, which many call the greatest game ever played. Berry caught 12 passes for 194 yards and a touchdown in the Colts' overtime win against the New York Giants. There were a dozen Hall-of-Famers on the field that day, including Berry and Johnny Unitas, whom Berry calls the most dominant football player he's ever seen, as well as the most mentally tough. Berry played with Unitas over the entire course of his pro career and stayed close with him over the years. He says that two of the best visits he ever had with him happened in the last year of life. (Unitas died last September.)
For mental toughness, Berry ranks right up there himself. In three years of college at SMU he caught only 33 passes for one touchdown. When he joined the Colts in 1955, he was given little chance to make the team. Coach Weeb Ewbank was impressed with his hard work and his hands, however, and kept him as a part-time player. The rest is history. Berry became a starter the next year and led the NFL in receptions the next four years running before undergoing knee surgery. The operation changed his game, but he still caught 75 passes, his career high, in 1961. When he retired in 1967, he held NFL records for receptions and yardage.
'I had exceptional catching ability and understanding of the game,' says Berry. 'I developed pass routes and faking as well as anyone ever has, because I had to. In those days your ability to get
open depended on man-to-man skills, and there were a lot of great one-on-one defenders.'
How would Berry fare in today's NFL?
'I'd love to play today,' he says. 'Receivers today, against zone defenses, run to an area. And they seldom get hit before they catch the ball. In my day you had to earn every catch. You could get killed before you even took your first step, and a defender could hit you all the way down field.
'I've got two perspectives, one as a player and one as a coach. As a coach, I had to constantly evaluate personnel. So in evaluating myself, I can say objectively that I could catch the ball as well as anyone who ever played the game. And I had more speed than people thought I did; I never had an inferiority complex about my speed.'
———–
Not long ago Berry heard an American soldier being interviewed in Iraq, and one phrase struck him.
'He said 'the training took over.' That's the way I look at my career, both as a player and a coach. Once you've prepared all you can, then the training takes over.'
In preparing to be a spokesman for Conroy Distribution, O'Brien's company, Berry became familiar with the hospitality industry and came to realize how many restaurants and bars are family-owned and, quite plainly, not the best of environments for the owners and employees. And he heard about what a difference the Purifan made.
'The Purifan is great for their own health, even though they put it in for the sake of their customers. It's a win-win situation, but the employees benefit the most because they're there the most.'
Berry has had restaurant people tell him that the cost of cleaning different surfaces was virtually eliminated after installing Purifans. Because dust is removed from the air, the amount of grease in
a kitchen is greatly reduced. And the effect of the Purifan on tobacco smoke and its ravages is dramatic: employees don't smell like smoke when they go home anymore.
Of course, every success can have its pitfall, as Berry can attest. (His 1985 New England Patriot team made it all the way to the Super Bowl, where they were waxed 46-10 by the Chicago Bears.) A
restaurant owner in east Tennessee told him about an employee who went home one night, free at last of the odor of tobacco smoke. This had its effect on her husband �V just not the usual one.
'Where have you been?' he wanted to know.
Raymond Berry was a 1973 inductee into the NFL Hall of Fame. In 1985 he was NFL Caoch of the Year. Today he speaks frequently to both Christian audiences and business and other secular groups. He is on the Board of Directors of the Fellowship of Christian Athletes (FCA), which will have its 50th anniversary next year.
The Purifan is installed in many Middle Tennessee locations, including the Nashville Marriott Hotel, the Holiday Inn Select on Elm Hill Pike, all three Demos' Steak & Spaghetti Houses (Lebanon, Murfreesboro, Nashville) and Toots in Murfreesboro.
For more information about Purifan Systems, call Kelvin O'Brien at 615-481-1777.
The Purifan dramatically improves the air quality in any room. Some of the Purifan's features:
Installed easily, by removing the blades of your ceiling fan with a screwdriver.
Compact, streamlined and elegant.
Circulates the air in a 20′ x 20′ room 40 times an hour – six times the capacity of a regular air purifier.
Energy-efficient �V uses only the electricity the fan does.
Filters are easily removed for cleaning or changing.
A fraction of the cost (and size) of typical smoke-removal units.
Helps those suffering from allergies. Removes dust mites, pollen, dander, smoke and all other airborne particles.
Free seven-day trial period.